Lee Ballantyne lost his wife of 43 years just before New Year's Eve. Carol, 62, passed due to lung cancer and other health complications. Newly widowed, Lee was going to have to many things alone for the first time in his life. One of his many firsts was eating by himself at a restaurant.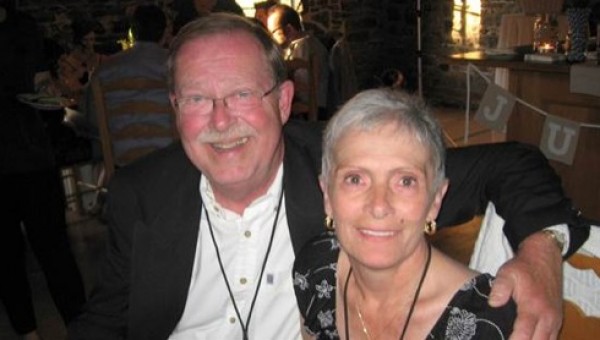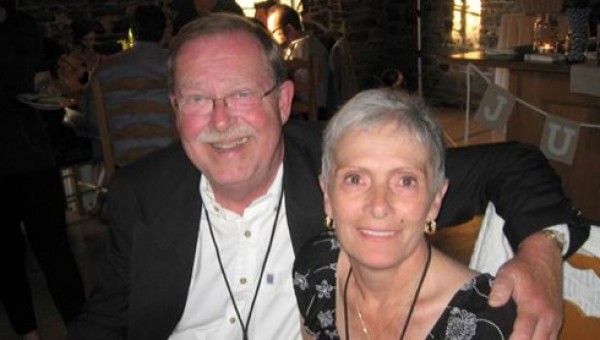 Source: Lee Ballantyne
While Lee, a Barrie, Ontario native, was at Cicco's Ristorante in Toronto, he saw a couple sitting next to him. This couple reminded him of he and his late wife of 43 years. With the memories rushing in, Lee left the two lovebirds a note scrawled on a napkin with payment (his credit card) for their meal and gave it to his waitress.
"I just wanted to write what I felt at the time so I scrawled it on a napkin," Ballantyne, 65, told Today.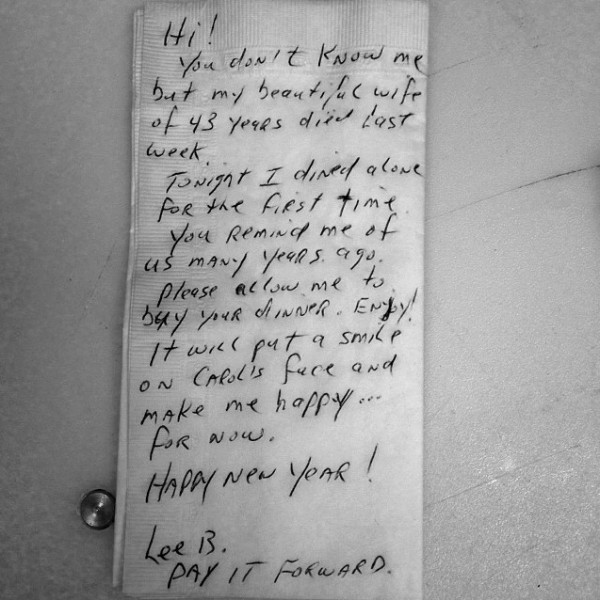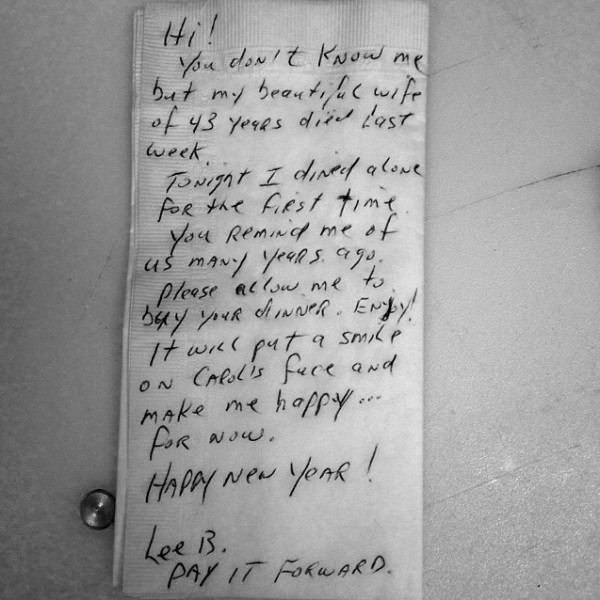 Source: Reddit
The waitress eventually handed the note to the restaurant's owner, Lindsay Weiss. Lindsay told Today, "They were beyond touched and grateful…I cried. The waitress and chef cried. It was one of the kindest gestures I've ever witnessed."
Although it was not Lee's intention, the message eventually went viral, amassing 800,000 views thanks to the internet's virality machine, Reddit.
He said he's happy people got to know about his wife. "My wife's strength and joy of life is now known to millions of people just because of that gesture so I accomplished something there."
The couple reached out to Lee and said they'd like to take him out to dinner.
For more on this story visit Today's interview with Lee here.