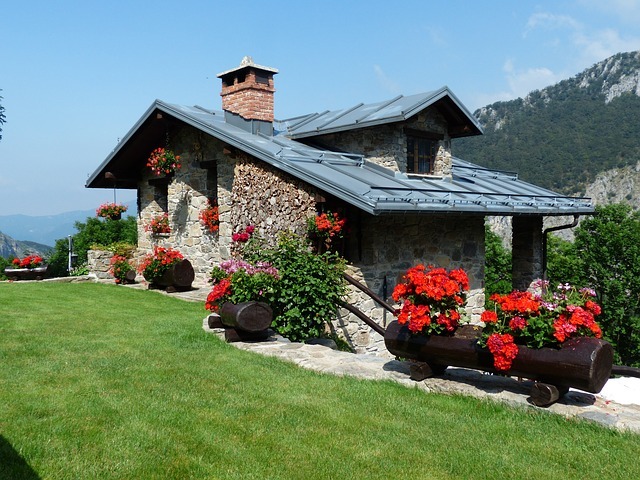 While the summer months are a great time to escape our daily routines, to take advantage of schedule-free days, and to see the world outside our four walls, fall on the other hand, is a time to return to home base and to appreciate the comfort of our familiar surroundings. To best enjoy this change of seasons, when the air starts to cool and the days are not as long, it helps to create a warm and welcoming environment to ease the physical and emotional transition. Below are five property improvement projects worth tackling to ensure a comfortable autumn at home.
Batten Down the Hatches
The first step to getting ready for the fall and winter months is to prepare the exterior for the change in weather. This is the time to put away summer toys, tidy up the garden beds, rake the falling leaves, bring in ceramic pots, shut off the outside water valves, and clean up the great outdoors. It is also a great time to organize storage sheds and garages before the colder weather makes these chores unpleasant. Likewise, checking the state of the roof and gutters is advised by the home experts at Lowes in order to avoid interior damage from leaks or clogs. If the roof is in need of repair, consider replacing it with an eco-friendly metal roof for its energy efficiency and durability. A metal roof will also provide greater protection of your home during times of harsh weather than traditional asphalt shingles can.
Cozy up Your Interiors
Just as the summer season presents the opportunity to appreciate the calming colors of sea and sand and sky, with autumn comes the energizing arrival of the changing leaves and fall harvest. Decorate your interiors with pops of orange, red and gold to create an inviting space inside that reflects the bright colors of the season. Other ways to encourage enjoying the interior view is to incorporate a comfy throw and richly textured accent pillows to your seating areas, add ambient lighting to a dark corner of a room, or paint a fresh coat of a warm color on the walls. Updating an existing fireplace with a new surround or decorating the mantel with seasonal accessories is another manageable project that can provide an inspiring new focal point for the interior of your home.
Renovate Your Bedroom
After a summer spent traveling to other locations and sleeping away from home, it can be refreshing to be back in your own bed again. Reflect upon all of the places that you visited and consider bringing a bit of what you experienced back home. Painting the walls of your room a color that reminds you of a favorite place that you stayed, or changing your bed linens to be more like those found at a fancy hotel, or hanging a collection of vacation photos on your wall to remind yourself of the good times you shared with family and friends are all easy ways to change your scenery at home. If you have a guest bedroom that you expect to put to use over the fall or winter months, create a space for your visitors that will be equally memorable for them.
Build a Better Basement
When the weather outside is less than inviting, our outdoor rooms tend to fall off of our radar. Perhaps you have a basement that could serve a similar function as an additional entertaining space? If the answer is yes, a renovation of this space is worth the effort. A basement "play room" can serve either adults or children allowing more room to spread out and engage in social activities. Think large screen TV and lots of comfy couches. Or, use this space to put all the toys that you would like to keep out of the formal living spaces upstairs. Maybe, your idea of a better basement would involve more solitary pursuits like a craft room, exercise space, or wood working area. If you have the space, use it to your advantage! A basement can be both functional and beautiful when designed with intention.
Office Space
After years of heading back to school come fall, this season can still inspire the desire to be productive, whether a student or not. Focusing on paperwork and planning is much easier to accomplish with the elimination of outside distractions. Having a room dedicated to working on these types of efforts, whether an office or library or study area can help make achieving personal goals and crossing items off our to-do lists much easier to accomplish. Dedicating a space to get down to business can be as simple as clearing a small area of clutter, adding a desk and chair, sufficient task lighting, and some type of filing or organizational system to accommodate the projects at hand.
Fall is a chance to spend time evaluating your home's ability to provide both shelter and joy. Paying close attention to your surroundings at this time of year will prepare you, and your home, well for the winter months that follow.
Bio: Paul Kazlov is a "green" home remodeling enthusiast and an industry pioneer in innovation in home renovation. Paul writes for the Global Home Improvement blog and strives to educate people about "green" products such as metal roofing and solar. Follow him on Twitter: @PaulKazlov