The New York Times put together the coolest interactive quiz and map of 2013. The quiz goes like this: You answer 25 questions about how you pronounce certain words and emphasize syllables. Things like "How do you say 'lawyer'?", or how many syllables does the word "caramel" have?
You can take this quiz here.
Being a military brat, I was certain this quiz wouldn't be able to pin where I've spent most of my life. But, it was spot on, nailing three cities I've lived in for the majority of the time. It is the coolest and craziest pop quiz you've ever taken.
Here's a sneak peek at some of the questions you'll be asked:
What do you call the night before Halloween? (By the way, what do you call the small road parallel to the highway? I have no word for it).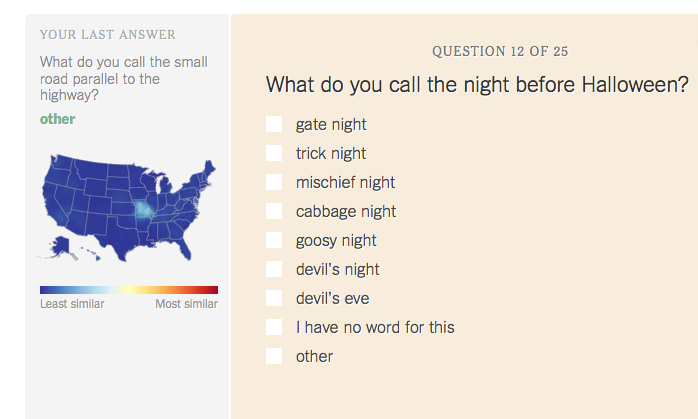 The quiz has picked up some viral steam, so if it's slow to load, give it a second. It's worth the wait.

CREDITS: Original by the NY Times.