As a kid did you ever wish you could live in a tree house? Or maybe you just secretly wanted to have a cool one in your backyard one day? If you can dream it up, you can do it, and these people have taken a tree "house" as their permanent residence to a whole new level of incredible. Here are 8 of the most innovative and awesome tree houses around the world. 
1. The Boeing 727: The Hotel Costa Verde in Costa Rica
1965 Boeing is standing on a 50-foot pedestal in the middle of the Costa Rican jungle and serving as a luxurious hotel with hand-carved furniture items and air-conditioned bedrooms.
Complete with an outside 'deck' for the afternoon cocktail, or unique photo opportunity.
And stunning views of the ocean – how perfectly situated.
And all the interior style and comfortable amenities one could ask for.
(via Costa Verde)
2. Somewhere in British Columbia, Canada, a vacation home Harry Potter would love.
(via imgur)
3.  The Sphere in Vancouver Island, Canada
(via Futuregiraffes)
4.  The Mirror Cube in northern Sweden.
How cool is this 13'x 13′ modern art – deep in the back country. The mirror cube is actually a part of a unique hotel in Sweden, called the Treehotel.
Complete with killer views and a gentle entrance in.
And all the natural light streaming through the one side mirrored glass.

(via TreeHotel.se)
5. The HemLoft Treehouse in Whistler, Canada
After retiring at the age of 26, software developer Joel Allen became a carpenter and fulfilled his dream of "building something cool". Kind of an understatement. He never thought this personal project would be featured in international design magazines!
(via Joel Allen)
6.  The Bird-Loft in Andu Momofuku Centre, Japan
A modern tree house concept by Nendo offers you the possibility to peek into the private life of birds. Divided into two parts by a wall with little peek holes, it allows people to see what the birds are doing on the other side of their wall. 
The place has 78 entrances for birds and a big round hole for humans. The treehouse was built for observing birds.
Just a human in a birdhouse!
(via Dezeen)
7.  The Bird's Nest, a hotel in the trees – somewhere in Sweden.
This tree house is also a Swedish-made Tree Hotel destination. Although it looks like a massive nest from the outside, the house has a modern and high-standard room built inside. (Designed by: inredningsgruppen.se)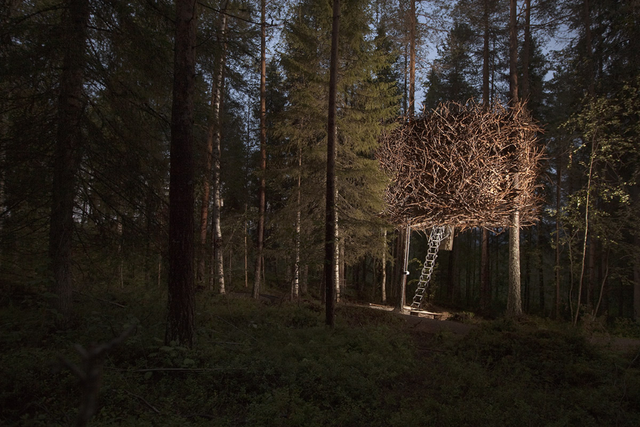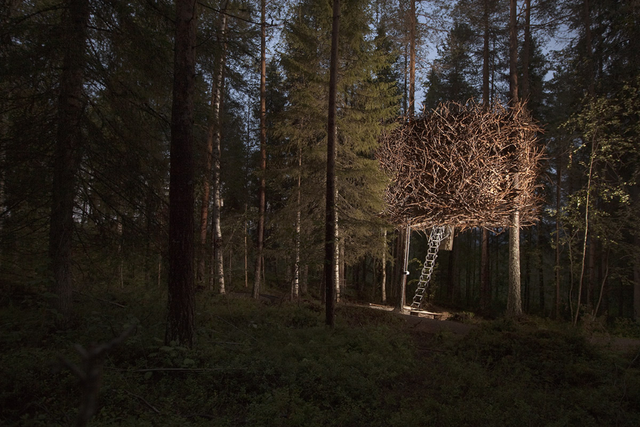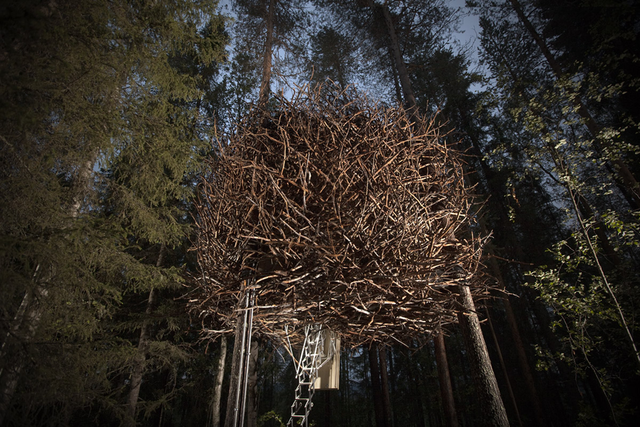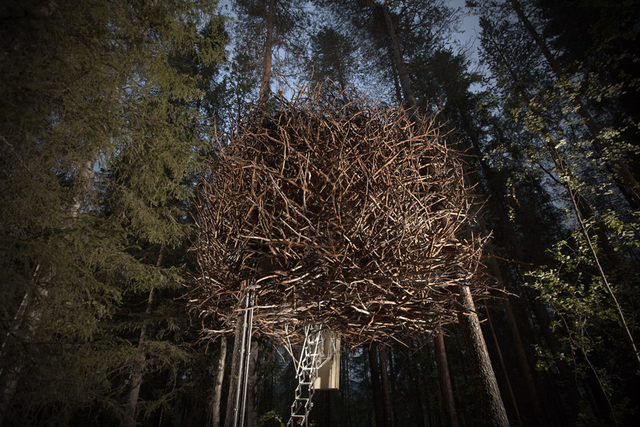 This is what we call "glamping"…glamour camping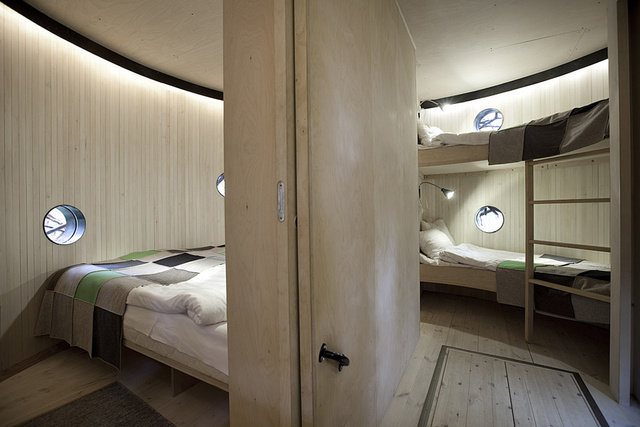 (via Nordic Design)
8. Wilkinson Residence, Portland, Oregon.
Located on a flag lot, a steep sloping grade provided the opportunity to bring the main level of the house into the tree canopy to evoke the feeling of being in a tree house. A lover of music, the client wanted a house that not only became part of the natural landscape but also addressed the flow of music.
This house evades the mechanics of the camera; it is difficult to capture the way the interior space flows seamlessly through to the exterior. You have to actually walk through this infrastructure of architectural genius to really understand how it works.
One example is a natural wood ceiling, floating on curved laminated wood beams, passing through a generous glass wall which wraps around the main living room.
(via Oshatz)
We know you can't wait to book your trip to the Tree Hotel or one of these fascinating places. Share these with your friends, plan a trip, live on the edge of adventure! After all, there's no need to bring a tent!