"No, it's not a porch. It's a portico!" If you're a homeowner who has invested much in renovating your porch into a magnificent portico, then using the word "porch" to describe your masterpiece is simply an understatement. Whereas a porch describes a mere extension of floor in the entrance, a portico is always adorned by tall columns to give your guests a formal greeting. But are you doing all you can to enhance the beauty of your portico? Here are a few royal ideas to help you decorate your portico and make a noble statement.
A Garden Design that Speaks for You
Having a portico that is hidden behind trees and other tall objects defeats the purpose of a magnificent entryway. When designing your front yard garden, it's best to keep tall trees away from the portico. Instead, a spacious lawn that is decorated by a few shrubs or bushes will give people a clear view of your portico.
Homeowners who are garden lovers could also try to recreate a Victorian garden by incorporating symmetrical flowerbeds, ornate woodworking, and other exotic, colorful plants. According to DIY.com, some popular shrubs you can consider include Azalea Holly, Hydrangea, Rose, Lilac, Forsythia, Andromeda, Barberry, Peony and Quince. Vines like Clematis, Ivy, Wisteria, Morning Glory and Honeysuckle are also coveted natural decor. They not only add a vibe of green to your grand portico, but also give it an organic charisma.
Pave Your Way to the Grand Entryway
Paved pathways are great for making the portico an attractive visual focus. As Landscaping Network explains, "Walkways are an important part of front yard landscaping" and should be used to increase the curb appeal of your exterior design. Generally, homes with a small front yard will look best with a simple straight walkway. Curved pathways are best for Mediterranean homes, but should be kept to the minimum to avoid stealing spotlights from the portico. Finally, straight, long paths are the perfect option for homes with a traditional colonial or Victorian style. If the path is extra-long, consider accenting it with a few beautiful flower pots and stairs.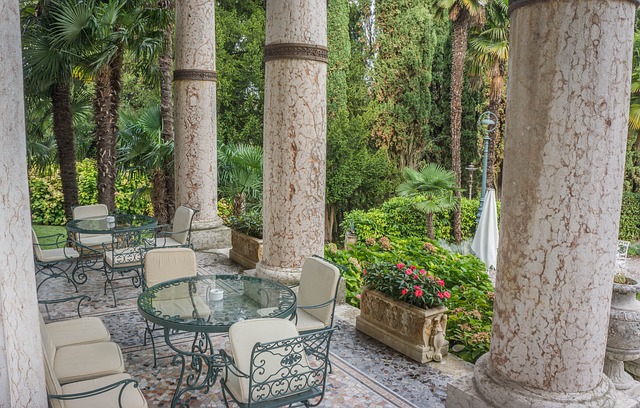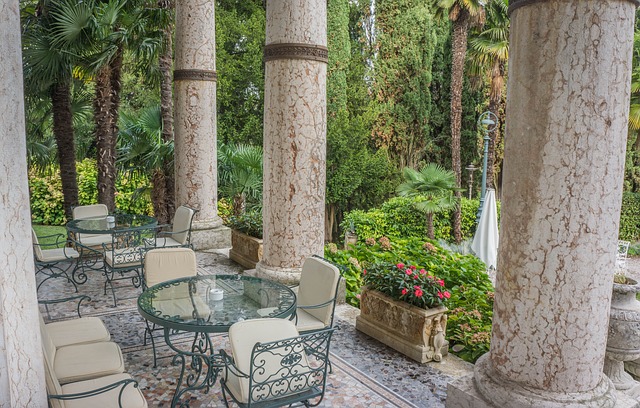 Luxurious Light Fixtures/Outdoor Lamps
The light around your portico can play a major role in complementing your exterior during the day and illuminating it during the night. Depending on the size of your porticos, you can have a single hanging light right in front of the entryway or two classy light fixtures strategically attached on either side of your door. Outdoor lamps and light fixtures lend an indoor and heartwarming feel to your portico. Additionally, exterior lighting also adds depth to your building during the night. When the sun sets, the lamps you put on the pathway and near the portico can create some interesting shadows and contrasts. They will artistically highlight the figure of your home, while casting an ambient glow to the overall exterior.
Take the Indoor Outdoor
Need a change of environment to recollect your thought or a few minutes of me-time that is away from the noises of the house? Adding furniture to your portico helps you to create an outdoor hub that can greatly refresh your mind. According to How Stuff Works, "Open air living has "green" appeal. It gets you back into nature — and nature you can control with a flick of the garden hose or a spritz from a can of bug spray."
Although the type of patio furniture you acquire is completely dependent on your personal taste and budget, comfort should be a top consideration. "Comfortable patio furniture, just like interior furniture, will be used regularly as opposed to uninviting patio furniture, which might have good looks but not-so-good comfort," says BHG. As a general rule of thumb, sit on the chair or sofa for a few minutes to find out whether the furniture can comfortably accommodate your back and overall body shape. Because the furniture will be constantly exposed to sun, rain, and wind, homeowners should choose tables and chairs that can be easily maintained or even put away during inclement seasons.
Experiment with Garden Figurines
Garden figurines or statues can dramatically increase the interest of the outdoor space. While they are often found in the backyard, there's no reason why you can't integrate a few of them for your front yard. For example, an open urn that is supported by a column can gorgeously replace your conventional flower pot while complementing the classic air of your portico. HGTV further adds that putting a pair of eye-catching sculptures on either side of your portico's entryway can enable you to make an effective design statement no one will miss.
Be Captivating and Creative
In many ways, the high ceilings and the long walkway of your portico inspires a classic Greek flair, making you feel like one of the noblemen (or maybe kings) in ancient time. When it comes to decorating your porticos, it is important to make sure that the portico is clearly defined and seamlessly complemented by surrounding details. As BHG rightly points, "A portico should always capture attention and draw foot traffic to your front door." From incorporating unique siding or embellishment to capping the portico with a roofing material that is different from the main roof, the design choice you make should strive to give your portico singular character that catches the eye.
Final Bytes for Your Portico
The design world offers a variety of options to enrich the beauty of your portico. Whether you decide to go for an ambitious garden makeover or a gorgeous water fountain, ensuring that your design choice aligns with your ideal outdoor space will maximize your personal satisfaction once the project has been completed. According to HGTV, there are many things you can do to your portico. But sometimes, you can achieve amazing results by simply upgrading your portico walls and giving them new colors. It all boils down to priorities and aesthetic preferences. So why not enjoy your design ventures and see where they lead you to the end?
Bio: Paul Kazlov is a "green" home remodeling enthusiast and an industry pioneer for innovation in home renovation. Paul writes for the Global Home Improvement blog and strives to educate people about "green" products such as metal roofing and solar. Follow him on Twitter @PaulKazlov