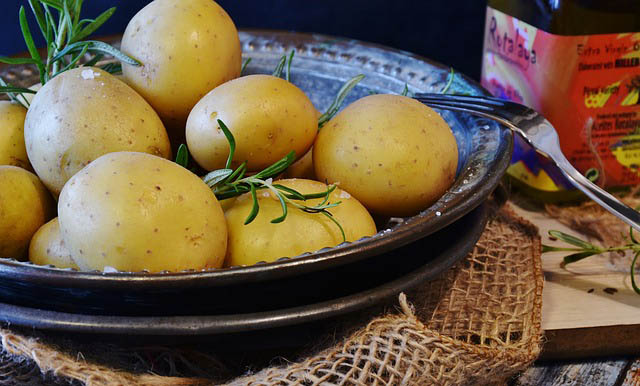 Hands up who doesn't like potatoes? I bet there's no-one right? Potatoes are a fantastic ingredient that most of us eat at least once a week. They're cheap to buy, taste delicious and are incredibly versatile. However, most people have one or two go-to recipes that they use for potatoes and never venture away from these. We're here to tell you that potatoes can be turned into some super delicious sides with just a little bit of effort. Below are five excellent potato sides you can make without spending much money.
1. Potato Skins
Potato skins are insanely delicious and they can be paired with numerous main meals. The best thing about potato skins is that if you prepare them properly, you can scoop out the potato inside, mash it up, and freeze it to be used at a later date – check out pocketchangegourmet.com to find out how. Potato skins can be loaded with any ingredients you like, although bacon, cheese and sour cream are a firm favorite!
2. Roast Potatoes
The perfect accompaniment to the Sunday dinner, roast potatoes are a firm favorite in my house. From the crispy outside, to the soft and flaky inside, every single bite is a delight! Top tip when making roast potatoes is to use a grater on the edges before you cook them. This way, they will become even more crispy when baking. Yum!
3. Hash Browns
If you've never tried an English breakfast – there's no better time to start than today! It doesn't matter if you're reading this article at lunchtime as an English breakfast can be eaten at dinner time as well. Hash browns are made from grated potato and onion. These ingredients are formed together and then fried until golden brown. Pair with some fried eggs, bacon, toast, sausages, tomatoes, and baked beans, and you've got a wonderful meal!
4. Hasselback Potatoes
Hasselback potatoes originated from Stockholm, Sweden and are basically a more visually appealing take on the traditional baked potato. Instead of cut in half vertically, these potatoes are sliced thinly and horizontally. The end result is a concertina effect that can be filled with your favorite toppings. Butter and cheese is a favorite of many, but you can add pretty much anything you like from sour cream and onions to tuna and mayonnaise.
5. Wedges
The humble French fry is a staple food in most American homes, however, one way to elevate this is to make wedges. Simple to make, all you need to do is take a potato, cut it in half, and then cut each half into wedge-shaped pieces. Drizzle with some olive oil and bake in the oven. Wedges can be served alone, topped with sour cream and spring onions, or smothered in cheese. They're a fantastic accompaniment for pretty much any meal and are healthier than traditional fries as well!
What's your favorite potato side dish? Let us know in the comments.