When Schlitterbahn Waterparks and Resorts first announced their triumphant installation of the world's tallest waterslide, we couldn't wait to get the full first person point-of-view of what it's like to cannon down the VERRÜCKT. Well, here it is: a sandbag with a camera strapped to it jetting down the 17-story monstrosity of an architectural masterpiece. Buckle up! (FYI: Early testing had some rafts flying off the slide. I'll take a rain check).
Source: USA Today
The 607-foot-long fiberglass water slide starts as the "Drop," a 60-degree, 17-story near free-fall before swooping back up the 55-foot-tall "Hill" where riders go from 5 Gs to weightlessness before descending to a stop in a splash zone.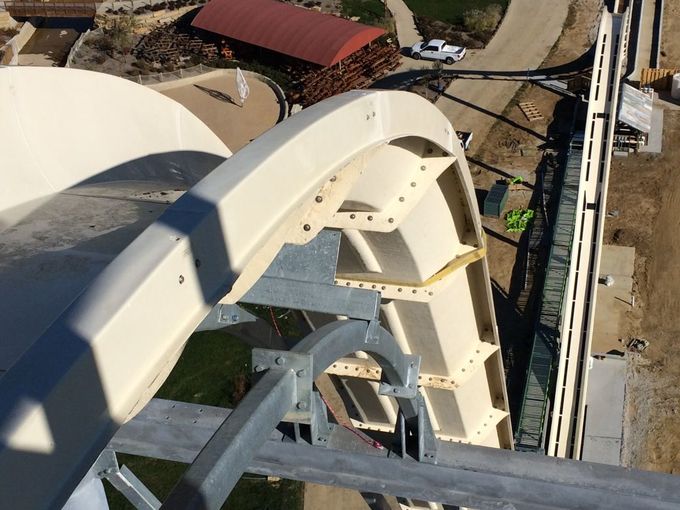 Velcro seat belts lash riders to the raft, and netting encloses the chute to retain the raft in the unlikely event it goes flying. During early testing, rafts did just that.
To prevent the rafts from flying off the slide the slope of the bottom of the Drop was mellowed from 45 degrees to 22 degrees to decrease speed, and an extra 5 feet was added to the height of the Hill. In order to ensure the raft makes it over the Hill now, a patented "Master Blaster" water cannon propels the raft over the top, which is the equivalent of jumping 21 semitrailers parked side by side
This is too insane for me, but thrill seekers of the world will absolutely love it!