Thirty-three year old Misty Copeland made history by becoming the first ever African-American woman to be named as a principal dancer at the American Ballet Theatre (ABT), one of the top three leading ballet companies in the United States; and to become the second black woman in the history of ABT to gain the status of a soloist. Misty became an inspiration to many ballet dancers belonging to minority racial groups who have little or no space in an upper crust, all white dance performance. She started ballet at a vulnerable age of 13, an age thought to be very late for a ballerina, where many of her counterparts started off several years ahead of her. What sets Misty apart from other ballerinas is her incredible journey from poverty, racial bias and personal hardships she faced in order to keep up with her dreams. Misty broke the barriers of race that determined ballet, and challenged the conventional body structure of ballerinas.
Early Life and Hardships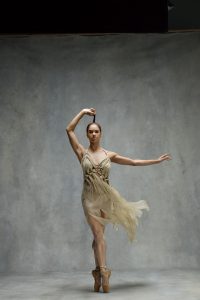 Born in Kansas City, Missouri, to Doug Copeland and Sylvia DelaCerna, Misty is the youngest of four siblings with two other half-siblings. Copeland never studied ballet or gymnastics, and only started practicing ballet at the age of 13, which is considered a late age to practice such an art. Before her pursuit of ballet, Misty was the captain of the drill team in her school. During her drill practices, her coach came to notice Misty's natural grace, and then encouraged and convinced her to take up ballet at the local Boys and Girl Club where free ballet classes were taught by her friend, Cynthia Bradley. That was the beginning of Misty's journey with ballet. She started ballet at the age of 13 and after just three months of training Misty was exceptional at it.
The beginning of her ballet journey was met with many obstacles, and she was burdened with personal hardships, including her racial identity and body structure. Misty, at that time, was living in a highway motel with her single mother and five other siblings. During her years of training, Misty became very close with her coach and even ended up moving in with her, and visiting her mother during the weekends. By 1998, 16-year old Misty filed for emancipation from her mother in order to live with her coach permanently. In spite of the legal drama that ensued, Misty was signed to ABT at the age of 17.
Not only did she cope with these challenges, but as Misty's body matured, she realized her body shape did not conform to conventional ballet standards. Her body curves were not appreciated and she was told that it distracted the stature and petiteness of a classical ballerina. She was repeatedly told to 'lengthen' her body, which in ballet meant to lose weight. Apart from her body structure, she was often made aware that dark skinned people were not appreciated or recognized in ballet. Despite all of these hardships, Misty, with sheer determination and hard work, was signed full time with the company.
To all the criticisms she had to face just because of the way she looked, she went on to write in her memoir Life in Motion: An Unlikely Ballerina, "ABT, seeing how hard I had worked, how well I was performing, eventually stopped asking me to lengthen. They came to see things my way, that my curves are part of who I am as a dancer, not something I need to lose to become one."
Achievements and Aspirations
In 2015, Misty became the first African American woman to dance with ABT in the production of Swan Lake by Russian Composer Pyotr Ilyich Tchaikovsky in the dual role of Odette and Odile. In the same year she went on to score a monumental achievement of being the first African American ballet dancer to be promoted to a principal dancer in all of ABT's 75-year history. To which Misty later stated that the accomplishment marked a pinnacle of a lifelong dream. It was also announced a few days later that Misty will perform in Leonard Bernstein's On the Town for two weeks in the summer. In spring 2015, Misty went on to being named as Time's 100 Most Influential People, a rare accomplishment for someone with a dance background.
Misty has strongly revealed the responsibility she has towards brown-skinned girls, belonging to minority racial groups, who are trying to pave a path in the world of art.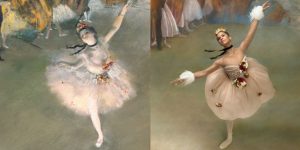 Recreating Paintings of Edgar Degas
Edgar Degas (19 July 1834 – 27 September 1917) was a French artist who was famous for his paintings, sculptures, prints and drawings. He is well acclaimed for his paintings that depict dancing, where more than half his paintings portray dancers.
Misty is currently recreating some of the ballet paintings of Edgar Degas with NYC Dance Project helping her to achieve this feat. This will be portrayed in the upcoming exhibition of 'Edgar Degas: A Strange New Beauty' at New York's Museum of Modern Art.
On Misty's experience with the ballet paintings, in an interview with Harper's Bazaar, she said, "It was interesting to be on a shoot and to not have the freedom to just create like I normally do with my body. Trying to re-create what Degas did was really difficult. It was amazing just to notice all of the small details but also how he still allows you to feel like there's movement."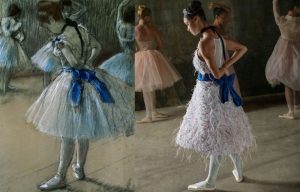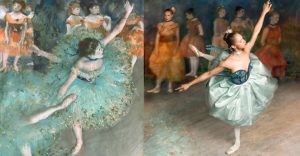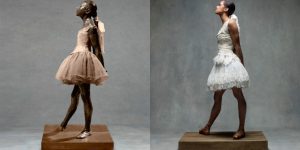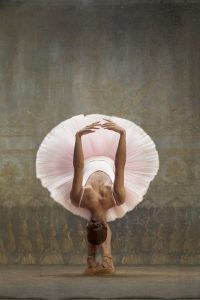 Principal Dancer and What Followed After
Misty's achievement as the first African American to be a principal dancer at ABT, in June 2015, was a groundbreaking feat, as only a handful of African American ballerinas have been able to make it as a principal dancer at globally acclaimed companies. After this major accomplishment, Misty went on to accept the role of Ivy Smith in the Broadway revival of On the Town, which she played from August 25 to September 6, 2015. Her debut on Broadway was met with positive reviews in the New York Times, The Washington Post and other major media corporations.
In October that year, Misty played in the revival of Twyla Tharp's choreography of the Brahms-Haydn Variations, in "Frederick Ashton's  Monotones I, and in Paul Taylor's Company B with a mix of demureness coupled with sex appeal. During the same month, Misty appeared on stage playing the role of His Loss in Aftereffect by Marcelo Gomes and in Tchaikovsky's Souvenir de Florence, at Lincoln Center. In December 2015, ABT brought Alexei Ratmansky's Nutcracker to Segerstrom Center for the Arts where Misty played the role of Clara.
In January 2016, Misty played the role of Princess Florine in Sleeping Beauty choreographed by Ratmansky at the Kennedy Centre in Washington. She will also have leading roles in ABT productions of The Firebird,  La Fille Mal Gardee, Le Corsaire, The Golden Cockerel, Swan Lake, and Romeo and Juliet to take place during the spring of 2016.
All Photo credits: Ken Browar & Deborah Ory
Article Source harpersbazaar.com