His life consisted of being in and out of prison for ten years; and he had been devoid of hope, until he started creating art.
Barry Yeow, in a talk hosted by a local community with TEDxNTU, shared his inspiring life story from being a man behind bars to being an artist who gives hope. "Life, what's the point…to be very honest, I've missed too many points in my life." He describes his life from being a young delinquent to repeat offender, to the major turnover of his life. His story is a motivation for a second chance at life, especially for those who have done big mistakes in the past.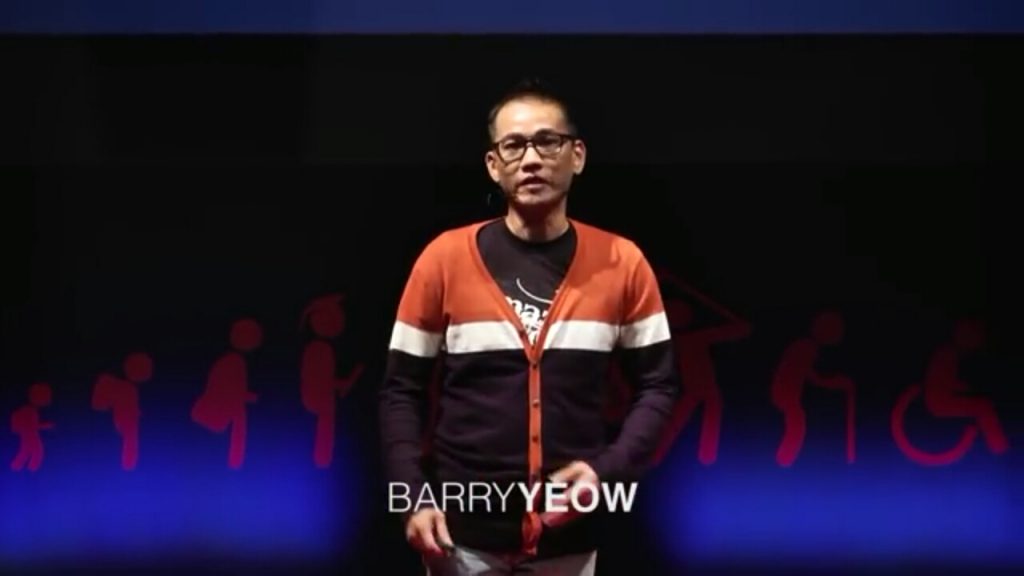 "Everyone is an artist," he begins. "If I say everyone, I say, every one of you." He goes on to say that people think artists paint beautiful things, sculpt, but his definition of an 'artist' is that they 'create'.
But even before Barry could start making his own artwork, he had been involved in drug addiction, robbery, and gang activity, leading him to believe that he was more of a 'destroyer' than a 'creator'.
Barry shares that he had been living a life that seemed meaningless, going back and forth into prison, seemingly going nowhere. His choices took away from him his marriage, his family relationships, and the trust that people around him had given to him, to the point where no one was left standing beside him.
He had so destroyed his life that he felt that, even before going into prison, he "was already IN prison," trapping himself emotionally, spiritually, and mentally in his guilt.
Wrought with loneliness and despair, he even contemplated ending his life, feeling like he does not see the point of life nor having any hope for his life. Driven to a cycle of drug addiction from his despair and guilt, he lamented losing his family's and his loved ones' trust, and even losing trust in his own self.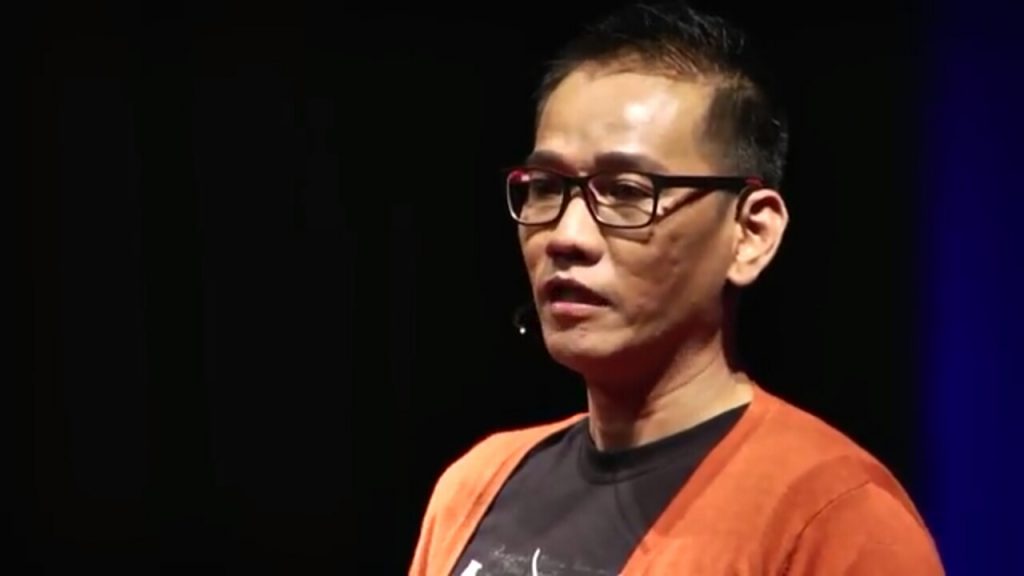 When he was again arrested for robbery and possession of drugs, which he had been repeatedly brought in for, he entered the lock down being warned of the possible punishments for his crime. "When I knelt down, instead of praying for life, I prayed for death. Because I'm so tired, [I'm] so painful, I'm so broken at the time; I wanted to give up, I really wanted to give up." Not having any strength to face his punishment, his loved ones, and even himself, he prayed for his death.
When he was admitted in the early morning in Changi Hospital the next day, he recalls that as he walked in, he saw a person in a vegetative state. He was told that the man tried to commit suicide in prison, but someone had managed to save him; only, it was too late to save him from the repercussions which led the man to that state. The man had been written an immediate release and the family had been notified; but when the man's parents came they refused to take him back with them due to the cost of having to take care of the sick man.
Meeting new friends..
He then met another man, a friend, who had been caught for trafficking. With a usual friendly greeting and asking what is his expected time in jail was, the friend answered that he has no chances of walking back out. This hits Barry anew, suddenly realizing that he, with his ten year-punishment, had some hope of going back to his life outside. Then another one of his friends, who was then due for release, told him that the impending freedom hardly made him happy because he had been diagnosed with a tumor that was unlikely to get better once operated and was more likely to leave him paralyzed with no guarantee of healing.
His friends' stories ringing in his ears, he began looking at his situation against theirs. "They're alive, they are living; but they were as good as dead."
Going through his sentence, things started to turn around when he discovered art. Joining an art competition where he had received an award for, he was encouraged to attend an art course. He started painting, and began to realize his insignificance.
"Before, I wanted to become a somebody…but the more I paint, the more I see landscape…I become so small. I am just part of the creation."
He began to take on a different perspective, which he had never done before, as he continued doing art.
He had dreamed once that he saw himself on a newspaper, holding a brush, and excitedly went on to tell his mentors and counselors. Encouraged by them, he chose to continue towards his dream; and he says he started to stop proving himself to others and just be who he was.
One of his paintings during his stint in prison was one of instant noodles, which he explained in jest, was their staple lunch. Following an unfortunate occurrence where he was the last to be given hot water for his lunch, he said that he had thought about having the worst of luck, when it hit him – a new view on life; a complete turnaround from his past:
"Life is not about living well but rather it's in the 'substance' of a life well lived."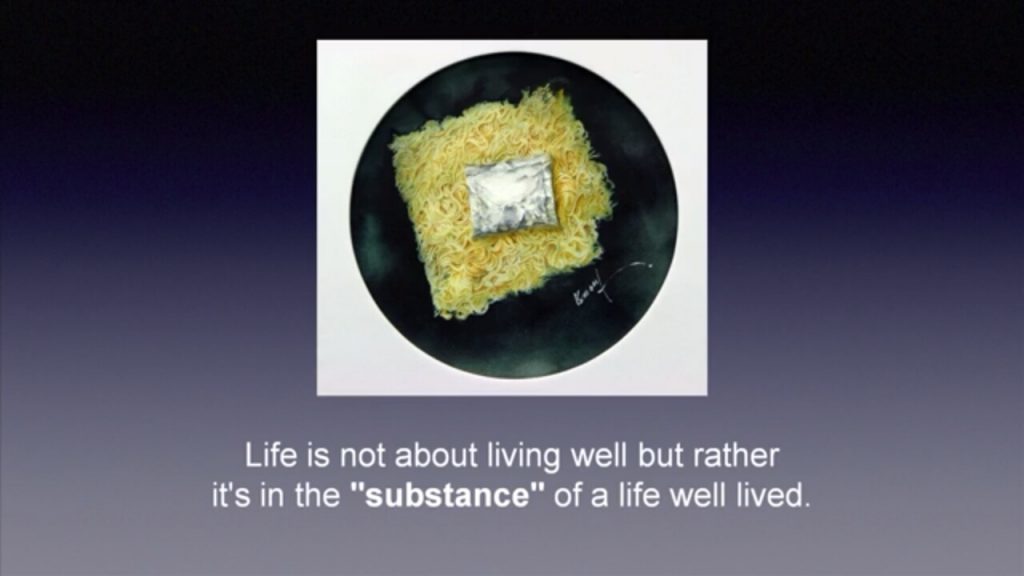 Even in the incompleteness of his life (just like in his noodle lunch) with living more than half of his life in prison and in despair, his past no longer mattered to him; he had decided to move forward not returning to his old ways, but rather to a well-lived life – doing art.
So when he had walked out of prison, even amongst people's doubts in his chosen career, he continued to hold on to his new dream. When his story came out in a newspaper, his mother, who had been out of contact with him for the longest time, called him and tearfully expressed how proud she was of him. And that was only the beginning of his reconciliation with the rest of his family.
I am a PhD?
"I have a PhD…but my PhD is slightly different…I was pardoned, I was healed, and I was delivered."
Barry's final message to his audience: "As long as you are breathing, you have hope."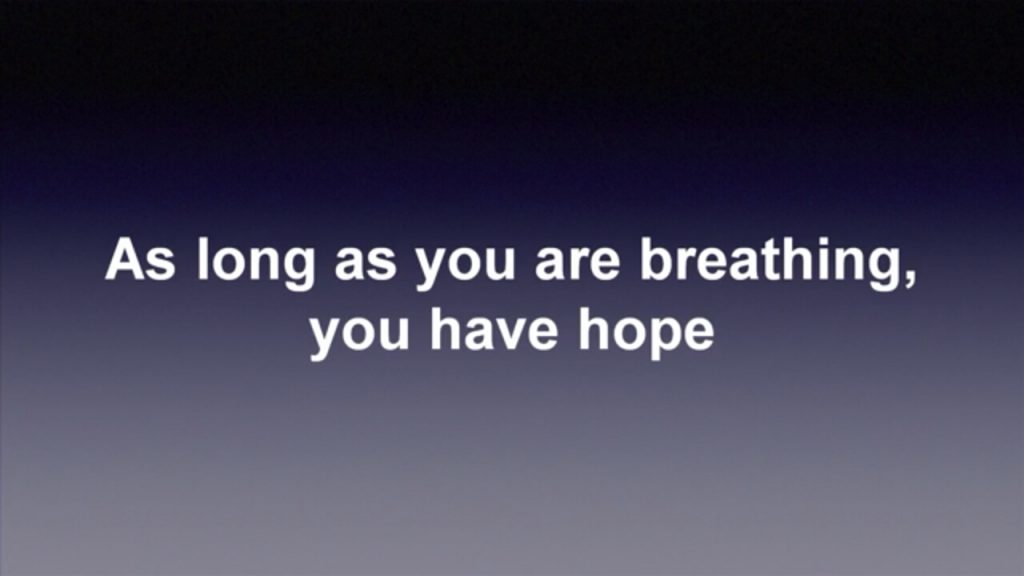 "Why I choose to be a practicing artist…is because I no longer want to destroy, but create."
His life is a strong message that no matter how many mistakes and detours we had gone through before we get to where we stand, confident of our purpose, that hope is always present; as long as we have to courage to take hold of that hope. Our lives are not to be disposed; rather, as long as we decide to move forward and make better choices, we rebuild our lives back from the point which we had everything tumbling down.
And that is how we 'create' our life filled with hope.
Source: TEDx